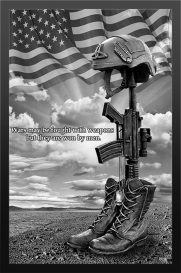 We were inspired by Independence Day, so we created this battlefield cross suitable for laser etching. Although a more appropriate motif could be used for the Independence Day, we decided to create something that will be useful for monument companies in the first place, even after 4th of July, therefore we used the battlefield cross for it is appropriate for every kind of patriotic related headstone.
There are many of these, but we haven't come across to any that included desert motifs, so we decided to prepare one. This powerful quote are words of general George Smith Patton, Jr. However, we did not include quotation marks or add an extra line of text to say who the author is, just to keep a simple and clean design.
As usual, we took several pictures free for commercial use to borrow elements to be used for our composition. In the end, all of the elements blended together beautifully into one picture.
All elements are separated in layers, so you can easily adjust them to your needs. It's a PSD file, dimensions are 49.8 x 75 cm, 300dpi.
This file is completely free for download.
---
---