FREE – Charming Birds Prepared for Etching
February 15, 2017

FREE – Battlefield Cross for Laser Etching
July 5, 2017

By doing a really large number of jobs, in recent years, we have encountered a variety of people with a variety of requirements. In the sea of people we were in contact with, one gentleman, whom it is impossible to forget, stands out.
A few years ago we were contacted by a person named Chuck, with the desire to restore the picture he sent us. After the job was finished, the gentleman was very pleased and he sent another old photo to be restored. Then another. Then he sent another two, three … over and over again. The cooperation lasted 4-5 months, during which time we have restored over 40 pictures, some of which were very old (the very first photos of American settlers) and very damaged.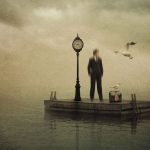 Among the most recent photos that were sent, there was a picture from the period around the mid-60s, damaged black and white photo, which we only had to fix. After we fixed it, we sent it back to him restored, still black and white, with the suggestion that further on a quality colorization could be done.
It may have inadvertently seemed that we insisted on additional money for a new order, so we sent in another email immediately mentioning that if he does not want, for whatever reason, to pay for the colorization, we'll do it for free. And the gentleman replied:
As usual you've done more than I expected.. As to your offer to color it for me… I am over 77 and on Social Security … yes I would like to take the offer… Thanks Chuck…
We were speechless. This gentleman has sacrificed its social security to provide a suitable memorial album of his ancestors. This really deserves enormous respect.
Of course, we did the colorization for free, Chuck was happy about it and we were for him. After that we did several other jobs for him, after which we suddenly broke contact. We tried to find him, without success. Occasionally we remember him, as now, while writing this article.
Chuck, we hope you enjoy at peace, wherever you are.
——————
Photo credit: The Mysterious Man by i-am-JENius @DeviantArt
Note: This article was actually published on our other website that offered our photo restoration services only. Considering the nature of the content we decided to move the article here..
---